.
Geo-Magnetometer BPT 2010
The BPT (formerly known as BPM 2010) measures the anomalies of the earth's magnetic field and thereby enables the locating of biologically significant site-related factors. For this the vertical intensity of the earth's magnetic field is measured. The data can be transferred via a serial interface to a PC or laptop to present the results in diagrammatic form (3D graphic).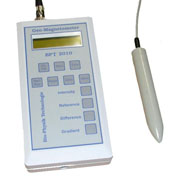 The microprocessor control ensures high accuracy and convenient implementation of measurement.
Features
simple handling for precise measurements
automatic selection of the measuring range
integrated

data

memory

measured value display
possibility of switching on an acoustic signal

data

transfer via serial

interface

output of measurement results as 3D graphic
setting of the different evaluation parameters: Intensity, reference, difference, gradient
Technical data
Measuring range: +/- 50 nT to +/- 150,000 nT
Measuring mode: Intensity, reference, differential, gradient
Measuring range
selection: Automatic - microprocessor controlled
Resolution: 50 nT (LSB)
Accuracy: +/- 3% (plus +/-1 LSB)
Frequency range: To approx. 10 Hz
Temperature range: -15° C to 45°C, operating temperature
Temperature drift: 250 nT with a temperature change of 30° (plus +/- 1 LSB)
Measuring rate: In standard measuring mode 30 Hz, with serial data transmission 50 Hz
Sensor system: Fluxgate, directionally sensitive
Measuring probe: Measuring probe and display unit form a calibrating unit. Replacing the probe requires recalibration.
Display: Digital measurement display, 2-line LC display
Sound signal: Sound signal frequency-proportional to the measurement can be switched off via keypad
Data memory: 9 storage places are available for the measured data
Signal output: Analogue output, 0-1 V on 10 kOhm, is modulated with automatic measuring range change-over with each measuring range from 0-1 V.
PC interface: Serial data transmission (data package consisting of: measured value, polarity, measuring range, start/stop signal, device serial No.)
Power supply: Accumulator mode or mains operation via the charger
Charger: output approx. 9 V, approx. 500 mA, DC voltage polarity of the coaxial connector outside (+), inside (-)
Probe cable: Device probe, cable length 1.7 m
Dimensions: measuring device (WxLxH) 100x195x45 mm
magnetic probe (ØxL) 20x140 mm
Weight: measuring device 500 g
magnetic probe 170 g

Download data sheet - Geo-Magnetometer BPT 2010
Protection Rating
The measring device is moisture-protected and can be used in light rain. The housing is not waterproof, no guarantee is given for working under the effect of heavy rain/water.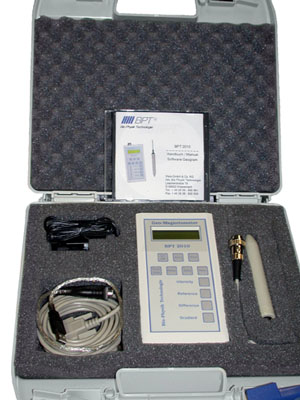 Supply
The Geo-Magnetometer BPT 2010 is supplied with the following equipment:
Geo-Magnetometer BPT 2010, consisting of
- Magnetic Probe 1-axis
- Charging Unit/Power Supply Unit (12 V/500 mA/coaxial connector, outside (+))
- RS Data Cable (to connect the Geo-Magnetometer to your PC)
- Plastic Case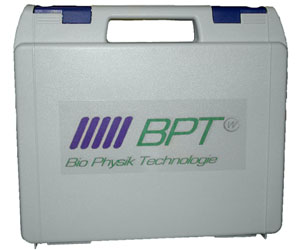 Geogram BPT 5020 (PC software for 3D graphics)
- CD-ROM
Manual 3 languages (D/E/F) on CD-ROM
Accessories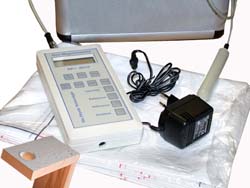 Measuring Cloth labeled with coloured lines - to manage an easy tracking of the measuring sections (dimensions: 2 x 2.50 m)
Probe Mounting Fixture - device and holder for examining spectacle frames for magnetisation.
Aluminium Case small  ...
Details and more product information >>
Prices available upon request.
Simply call us +49 (0) 0 26 36 / 80 09 - 81 or send us an email.