.
Scintillation Counter
Scintillation Counter
Our highly sensitive Scintillation Counter - radioactivity measuring device - equipped with a NaI-scintillation crystal. Objects and open field with radioactive contaminations can be examined in a simple and quick way. For Spectroscopy measurements as well.
Applications
prospecting and surveying
material analyses
isotopic measurements
spectroscopy
combination measuring with 1- and 3-axis magnetic probe
and many more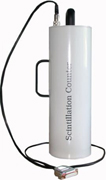 Radioactivity measuring device with NaI-scintillation crystal
Our Scintillation Counter can be connected directly to the measurement computer BPT 3010 to calculate and process all taken data.
Features
simple operation
digital display of measured values
impulse microsievert per hour (μSv/h)
einfache Parallelschnittstelle

power

supply via measurement

computer

separately start/stop button for

data

logging

function

light
Technical

data




Dimension:

Height 36 cm (39 cm incl. grip), Ø 12 cm (15 cm incl. grip)

Weight:

3.5 kg

Display:

Via measurement

computer

BPT 3010

Measuring range:

0-2350 keV for spectroscopy

0-2350 imp/min radioactivity/standard measurement

Temperature range:

-40 to +90°C

Power supply:

Via external measurement

computer

BPT 3010

Sound signal:

Via measurement

computer

Protection Rating:

IP54

Interface:

Parallel

interface

Crystal:

Natrium-Iodide (NaI)

Download data sheet Scintillation Counter
Prices available upon request.
Simply call us +49 (0) 0 26 36 / 80 09 - 81 or send us an email.